Advertisement formats play a huge role in capturing your audience's attention. Franchise programmatic display ads allow businesses to bid for ad space on multiple websites that accurately target their audience. Enspire for Enterprise's franchise programmatic display services utilize real-time media buying technologies that optimize your performance across the target network. Our franchise programmatic display services make it possible to employ machine learning efforts across your network for your multi-location or franchise business.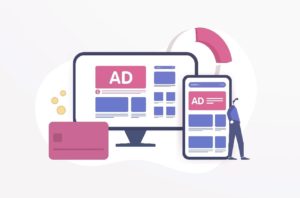 Our team will automate the buying and selling of banner ads for a streamlined approach. These banner ads can be static or dynamic and are typically found in the headers, footers, and sidebars of other websites, social media platforms, or apps on your mobile device.
What Makes for an Eye-Catching Banner Ad?
Short and concise: We will create a memorable title or message blurb that accurately depicts the product or service your company is offering.
Promotional offer: We will highlight the promotion your business is offering in the ad using bigger or more colorful text.
An image: A high-resolution image is crucial to ensure your ad is detailed. We will insert a quality image that is relevant to your business or the product/service you are advertising.
Call-to-action button: To make it easy for your audience to take your ad a step further, we will provide them with a call-to-action button. Some examples may include "Learn More" or "Visit Store."
Brand identity: As with all advertisements, we make sure your brand identity is incorporated into your ad. We will include your company logo or the branding colors that represent your business to leave an impression on your audience.
How Enspire for Enterprise Creates Franchise Display Ads
Enspire for Enterprise offers a fully customized strategy for your franchise programmatic display ads. This targeted approach is based on your audience's prior search activities including previously searched keywords, their interaction with competitors, and their prior or current location. This allows for remarketing with relevant and timely content to keep your audience engaged and guided further down the decision path of your ad.
For more information on franchise display ads, contact Enspire for Enterprise today.