Grow your brand by taking advantage of Enspire for Enterprise's franchise social media marketing services. Our social media professionals create customizable solutions tailored to your business goals. During your onboarding, we will learn all about your business and how your franchise stands out from others in the industry. With this information, we will educate a wide audience through major social media platforms including Facebook, LinkedIn, and Instagram. Transparency is key in reaching a targeted audience and bringing in customers. Sharing your brand story on social media speaks volumes and allows customers to share their experiences working with your company. This creates a showcase for potential customers to see through the lens of other people's experiences with your business. Social media platforms also offer a key way of ensuring your business does get noticed, and that is where social media advertising comes in.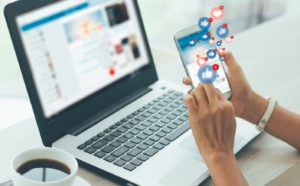 Share Your Story to a Targeted Audience
Social media gives your franchise a huge opportunity to market to a specifically targeted audience, sharing information, testimonials, and promotions from your business.
Our paid social advertising team delivers high-value conversions by creating high-quality social media campaigns for your business. Increase brand awareness and let the customers come to you with the exposure social media provides in the advertising world. By utilizing our franchise social media marketing strategies, we will pinpoint your ideal audience using advanced targeting techniques that include demographics, geo-location, interests, behaviors, lookalikes, and more.
For more information about franchise social media marketing services, call Enspire for Enterprise today at (800) 906-8277 or fill out the form on our website.